Posted: May 13, 2020
By Shelley Wong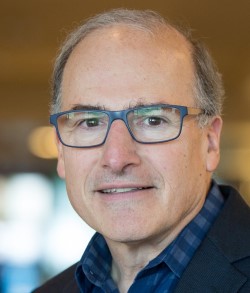 David Erle, MD, has been appointed as the director of CoLabs, a next-generation research hub based at the Parnassus campus.
CoLabs is a pillar in UCSF's Parnassus Heights plan to transform the campus and enhance the University's research, education, and care delivery. A groundbreaking concept, CoLabs will bring together several established and successful (but previously separate) core laboratories into a new model for research collaboration. CoLabs is a new unit within the Office of Research, and Erle will work closely with Vice Chancellor Criswell and the CoLabs steering committee, comprising a broad representation of the UCSF research community, to establish CoLabs as a major new resource (see second part of this article).
As the founding director of the UCSF Functional Genomics Core Facility twenty years ago at ZSFG (the Core later relocated to Mission Bay), Erle is uniquely qualified to lead CoLabs. The Genomics Core has supported over 900 projects across UCSF departments and schools. In 2017, he became associate chair of biomedical research in the Department of Medicine and gained greater insight into a broader cross-section of research and critical issues regarding space utilization at Parnassus Heights.
The creation of CoLabs comes at a critical time for research collaboration and shared resources. In response to the COVID-19 pandemic, Erle is serving as the UCSF principal investigator for Immunophenotyping Assessment in a COVID-19 COHORT (IMPACC), a NIAID-sponsored study that is enrolling inpatients at UCSF Medical Center and ZSFG. CoLabs scientists are playing a leading role in analyzing samples collected here and at other centers throughout the US, and CoLabs is working with ImmunoX to support COVID-19-related projects that require BSL-3 resources. Erle has also been moderating Office of Research Town Halls that are providing our community with updates on UCSF's diverse COVID-19 research programs.
Erle has been part of the UCSF community for forty years, beginning as a medical student. Erle started his own research lab at ZSFG in 1990, moved to the Mission Bay campus soon after that campus opened, and will now relocate to the Parnassus campus to take on his new role. He is a member of the Bakar ImmunoX Program, the Cardiovascular Research Institute, and the Institute for Human Genetics. His primary area of research is the study of the molecular pathways underlying airway epithelial dysfunction in asthma. His collaborators include experts in asthma, genetics and genomics, and computational biology.
In 2017, Erle chaired the task force for a new Central Research Laboratory initiative as part of the plan to transform the Parnassus campus. Since then, a large group of faculty and staff have been intensively engaged in planning this laboratory, now renamed as CoLabs, with substantial support from the Bakar ImmunoX Initiative and the Office of the Executive Vice Chancellor and Provost. The initial five CoLabs teams – Biological Imaging Development, Data Science, Disease to Biology, Flow Cytometry, and Genomics – are already working together closely to support CoLabs-based collaborative projects (called CoProjects) and other research efforts. Most CoLabs operations will move into its first centralized home on the eighth floor of the Medical Sciences Building as renovations are completed in the coming months.
ImmunoX Director Matthew Krummel, PhD, previously led the Immunoprofiler Initiative, which was designed to develop large multidisciplinary groups to address important questions related to cancer. CoLabs is an extension of his vision to develop shared UCSF research resources at a campus level.
"With the excitement around immunotherapy, Max Krummel saw an opportunity, along with other faculty, to develop data about human cancers and immune response through groups with different kinds of expertise," says Erle. "Immunoprofiler gathered staff and others who could process surgical sample tissues using cutting-edge methods like high-dimensional flow cytometry and RNA sequencing. Another important idea was to connect a large group of investigators with related interests, such as tumors in different parts of the body, to achieve economy of scale. Experts would be able to share their expertise, equipment, and protocols across multiple projects, as well as develop technology for analyzing, storing, and sharing data from these projects."
It has been exciting to work with a dynamic team and see if we can make this bold move and experiment a success.
David Erle, MD
Director, CoLabs
"I'm very grateful for the support we've received from Dan Lowenstein, Lindsey Criswell, and Chancellor Hawgood to create CoLabs to benefit all UCSF researchers," says Erle. He will be working closely with the directors of each CoLab team to ensure their team's efficiency and will, along with CoLab leadership and the steering committee, oversee the progress of CoProjects, establish selection criteria, and secure and manage resources to support CoProjects and other CoLabs activities.
"It has been exciting to work with a dynamic team and see if we can make this bold move and experiment a success. I have been working on this project over the past two years with a variety of faculty, staff, and trainees who have been able to come together and advance a shared vision, a new way to conduct research at UCSF that will enhance our efficiency and collaborative power, and help contribute to the renovation of this campus," says Erle.
"Returning to Parnassus is coming home to the place where I started as a medical student, and it's thrilling to think about contributing to the future of Parnassus. This campus has tremendous advantages as a great place to do patient-based research that is biologically rigorous and will make important contributions to human health," he says.
About CoLabs

CoLabs will open in two phases: (1) the eighth floor of the Medical Sciences building is being renovated and is on track to open in summer 2020 and (2) CoLabs will have a permanent home as part of the Parnassus Heights campus transformation, estimated in mid-2025.
The CoLab teams are:
Biological Imaging Development CoLab (BIDC) led by Kyle Marchuk, PhD, who formerly managed the Biological Imaging Development Core
Data Science CoLab (a new unit) led by Gabriela Fragiadakis, PhD, who was recruited from Stanford University
Disease to Biology CoLab (a new unit) led by Alexis Combes, PhD, who recently completed a post-doc with Krummel
Flow Cytometry CoLab led by Claudia Bispo, MS, SCYM(ASCP)CM, who formerly managed the Parnassus Flow Cytometry Core
Genomics CoLab led by Walter Eckalbar, PhD, who succeeded Erle as leader of the Functional Genomics Core in July 2019
The CoLabs chief administrative officer is Adriane Joo, PhD, a former lead lab manager in the School of Dentistry. Adriane manages and oversees the administrative operation and support for the CoLabs which include activities in finance, HR, IT, contracts and grants, facilities, and staff development planning. The CoLabs chief strategist is Andrea Barczak, who worked with Erle for 20 years to develop and run the Genomics Core and is now developing and implementing strategic plans for organizational growth and success.
CoProjects are collaborative projects where the majority or all of the experimental work and data analysis is performed within the CoLabs. Each CoProject is initiated by one or more principal investigators who will designate a lead scientist from their group, typically a postdoctoral scholar or student. This lead scientist will be physically embedded in the CoLabs and work with CoLabs team leaders and staff as samples are processed and analyzed. This is a new model: instead of having a researcher access unconnected core facilities, they will work in a group of interconnected, physically co-located CoLabs.
For 2019 and 2020, ImmunoX has provided substantial funding for a set of CoProjects. CoLabs is in the process of extending the CoProject model to other funders to expand beyond ImmunoX projects and immunology research, aiming to develop a diverse set of CoProjects representing a cross-section of research reflective of the campus. UCSF PIs are encouraged to learn more online as CoLabs moves closer to their official opening this summer.