Posted: September 16, 2021
By Shelley Wong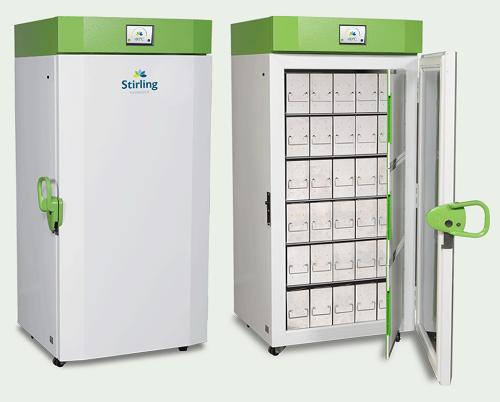 Transitioning to energy efficient freezers has the potential to dramatically lower UCSF's energy use and save millions of dollars annually.
In 2019, the Schools of Pharmacy (SOP) and Medicine began a pilot program to consolidate underutilized freezers and replace about 40 ultra-low temperature (ULT) freezers in Byers and Genentech Halls (as well as older SOP freezers housed elsewhere on campus) to Energy Star units, at no cost to the principal investigator (read a related Office of Sustainability article featuring Jason Sello, PhD).
The pilot is funded by the Strategic Energy Partnership (SEP) Program and School of Pharmacy funds. Future purchases of ULT freezers are now required to be Energy Star-certified by the U.S. Environmental Protection Agency.
"Global warming is an existential threat right now, and we're not making much headway. To that end, I've often thought about the impact of UCSF's mission on the carbon footprint," says B. Joseph Guglielmo, PharmD, dean of the School of Pharmacy.
New UCSF buildings have been built with an eye toward sustainability, but Guglielmo saw an opportunity to do more.
"I was shocked to learn that the number one area of UCSF impact on the carbon footprint is freezers – they dwarf cars, emissions, and airlines – and a lot of researchers aren't aware of this issue," says Guglielmo. He reports that the amount of energy associated with UCSF's 1,200 ULT freezers is equivalent to that used by the entire Moffitt Long Hospital or the two HSW and HSE towers.
As a school dean, he decided to commit SOP to consolidating underutilized freezers and transitioning to energy efficient freezers, covering all costs to ensure its success. This pilot, including Byers and Genentech buildings, is a partnership between SOP and SOM and Guglielmo is working closely with campus stakeholders, including Dean Shehu (Research Commodities Management), Adam Schnirel and John Rosendo (Facilities Services), Gail Lee and Rowena Eng (Sustainability), and Vanessa Wong (Supply Chain Management).
The team has conducted a campus-wide freezer inventory and calculated that the energy savings is equivalent to a reduction of 8,400 metric tons of carbon dioxide annually. At UCSF, if all ULT freezers were replaced with Energy Star models, it would result in $2.1 million in utility cost savings.
This is going to be a success story and I fully expect there will be a ripple effect for the entire campus.
B. Joseph Guglielmo, PharmD 
Dean, School of Pharmacy
In addition to evaluating freezer energy efficiency, the Facilities team, led by Schnirel, is ensuring that all freezers are seismically braced, on backup power sources, and have temperature monitoring.
The initiative is focused on Byers and Genentech Halls, which are managed by Nevan Krogan, PhD, and David Morgan, PhD, respectively. Krogan and Morgan are on-board as executive co-sponsors of the project, with Guglielmo.
Guglielmo says, "This is going to be a success story and I fully expect there will be a ripple effect for the entire campus."
The pilot completed in August with 39 replaced ULT freezers. The team plans to publish the science behind this initiative and present the paper at a major meeting, with Shehu as the lead author.