Posted: January 21, 2021
By Shelley Wong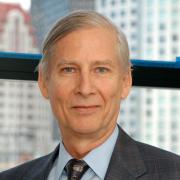 Taking on immediate challenges during the COVID-19 pandemic, Edward Kuczynski, MA, rejoined UCSF as Director of the Human Research Protection Program (HRPP) in May 2020. One of his first responsibilities was to review and approve a process for University of California-wide creation and stewardship of a COVID-19 patient limited data set that could be used by researchers. Another was to finalize guidance on how clinical research study teams could continue their research (or start new research) at a time when it was inadvisable, and in many cases, not allowable, to have participants on campus for in-person visits.
Kuczynski said, "In those early weeks, I quickly realized how centrally positioned the HRPP was to so many challenges and questions about how to operate clinical research studies in the context of a pandemic response." He became a close collaborator with Associate Director of Clinical Trials Payam Nahid, Senior Associate Vice Chancellor of Research Brian Smith, Associate Vice Chancellor of Clinical Research Hal Collard, and other Office of Research leaders to manage clinical research activities and participate in COVID-19 related research planning. "I have assumed a much more expansive set of duties, responsibilities, obligations, and opportunities to contribute than I had originally envisioned, which has been great. The opportunity to contribute much more broadly has been an exciting challenge for me and I'm very happy to be here," said Kuczynski.
The HRPP is comprised of three groups—the Institutional Review Board (IRB), the Quality Improvement Unit, and the Human Gamete, Embryo and Stem Cell Research Committee (GESCR)—who are responsible for reviewing and monitoring research involving human research participants at UCSF and several affiliate institutions to ensure safe, ethical, and equitable participant treatment. To meet the challenges of the moment and ensure the safety of research participants, the HRPP team needed to act quickly and effectively during the public health emergency, developing guidance and promoting specific features on software platforms as solutions.
While technology may seem a bit outside the HRPP's domain, Kuczynski points out that it ties back to their work to protect the safety and welfare of research study participants. "Hand in hand with that is figuring out how to strike a balance between that obligation and the need to foster the kinds of research studies that are going to result in new therapies, treatments, and knowledge that can be used to improve the lives of research populations who become the patient populations in the future. It makes sense for the IRB to become involved to help foster them along and identify guidance and policies to put into place since we are the last step in terms of compliance and approval," he said.
Since March, led by Kuczynski and the prior interim HRPP Director Sherry Felchlin, the HRPP has developed procedures, materials, and guidance to assist in the swift review and approval of COVID-19 research and help UCSF study teams navigate changes in their research plans due to COVID-19.
Their 2020 accomplishments and resources include:
The HRPP has also been involved in the process of bringing DocuSign and REDCap into compliance with the FDA's privacy rules at 21 CFR Part 11 for electronic consent signatures and creating access to REDCap Cloud, a commercial platform solution for compliant comprehensive electronic study records. Updates on e-consent options and information about third-party electronic platforms are detailed in their FAQ Q2. 
While it is a challenging time for a cross-country transition, Kuczynski's move was a welcome one, as it reunited him and his wife with their adult children who both live in San Francisco. He previously worked for UCSF as a research epidemiologist in the 1980s, consulting on public health studies and organizing the AIDS and Adolescence Project. He is among many UCSF faculty and alumni who began their careers in San Francisco during the AIDS epidemic and are part of our city and University's leadership in the pandemic response.
Kuczynski said, "As for many others at UCSF, at the time of the AIDS epidemic, we had to learn how to do research and study underserved and underrepresented populations in a big hurry, and apply novel tools and techniques to understand the epidemic and how best to respond. The result of that was a heightened sensitivity for me, and for many of my colleagues, around the notion of engagement with the community as stakeholders in the research, and how absolutely vital that was going to be in order to have any impact."
Throughout his career, he has continued to be involved with programs and projects with this focus. Most recently, he was director of clinical research operations at Tufts Clinical and Translational Science Institute at Tufts Medical Center and an assistant professor of medicine at Tufts University School of Medicine. His Bay Area experience also includes work as a strategic advisor at the Stanford Center for Clinical and Translational Research and Education.
He emphasizes that it is critical to engage with community organizations as consultants in the process of designing research studies and partner with them to promote research that is important to the community. While managing the many complexities of his new role, he has reconnected with the San Francisco community through CTSI's work and in collaboration with Kevin Grumbach, MD and Tung Nguyen, MD on a community advisory board outreach effort.
"One of my goals is to make the role of the HRPP and our various IRB committees much more visible to these community organizations and for them to see us as another liaison to the research investigators who want to do impactful research studies, communicate, and create channels for collaboration," said Kuczynski.