Parnassus Research Programming Task Force Update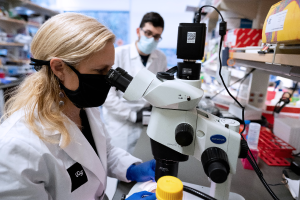 The Parnassus Research Programming Task Force invites all members of the UCSF research community to review the ideas and resources in its final report. Creating a dynamic, visionary, and connected Parnassus Heights campus will involve committed campus-wide efforts and support. The report was presented to and unanimously endorsed by the Space Committee and is guiding the design of the Parnassus Research and Academic Building and its integration with existing research space (view task force video presentation to the Academic Senate).
---
Profiles Hotlist
Steven Deeks, MD
Professor of Medicine
with Melanie Ott, MD, PhD
"Research priorities for an HIV cure: International AIDS Society Global Scientific Strategy 2021," Nature Medicine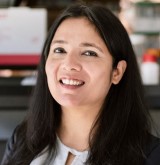 Sonali Chaturvedi, PhD
Research Investigator, Gladstone Institutes
with Gustavo Vasen, PhD, Michael Pablo, PhD, Xinyue Chen, PhD, Arjun Kumar, Elizabeth Tanner, PhD, Pei-Yi Chen, Blaise Ndjamen, MS, Melanie Ott, MD, PhD, and Leor Weinberger, PhD
"Identification of a Therapeutic Interfering Particle — A single-dose SARS-CoV-2 antiviral intervention with a high barrier to resistance," Cell
Tomiko Oskotsky, MD
Research Scientist
Bakar Computational Health Sciences Institute
with Alice Tang, Boris Oskotsky, PhD, and Marina Sirota, PhD
"Mortality Risk Among Patients With COVID-19 Prescribed Selective Serotonin Reuptake Inhibitor Antidepressants," JAMA Network Open
---
Events
PMWC 2022!
The 2022 Precision Medicine World Conference will be held in Santa Clara at the Santa Clara Convention Center from January 26-28 and will feature over 20 UCSF speakers. Get updates and register here.
COVID-19 in California's Safety Net Settings: Learning from the Experiences of Primary Care Clinicians and their Patients 
SFBayCRN invites you to a webinar on January 28 with Rebecca S. Etz, PhD, co-director of the Larry A. Green Center for the Advancement of Primary Care for the Public Good. Dr. Etz will share learnings from periodic surveys of a sentinel network of primary care clinicians and their patients used to inform the COVID-19 national response.
---
Funding Updates
The Office of Sponsored Research reports the following summary of COVID-19 related proposals and awards as of December 20:
Total proposals: 803
Total requested: $1,208,850,546
Total awards: 345
Total awarded: $244,837,065
NIH Funding Opportunities Specific to COVID-19
Visit this website for the latest funding opportunities.
---
NIH Updates
Policy and Guidance:
Open | Application Process for 2022 mHealth Training Institute
2022 NIH mHealth Training Institute (mHTI) at UCLA – designed to develop the next generation of transdisciplinary mHealth researchers, the hybrid mHTI will blend online webinars with an immersive in-person learning experience (July 26-29, 2022). Application deadline is February 20.
New | Restricted Party Screening Training
Training on Restricted Party Screening using the new version of Visual Compliance is available in the UC Learning Center by searching "RPS." Conducting RPS can reduce noncompliance with export controls and improper foreign government influence.
Notice | Want to Modify APeX for Your Research Project?
APeX is UCSF's Electronic Health Record system. If you have an algorithm, digital tool, or intervention (e.g., for clinical decision support) you'd like to get in front of UCSF clinicians or patients for purposes of a research study, submit a CTSI consultation to find out how to move your idea forward. 
Notice | UCSF IRB Facilitates Transfer of UC-wide Data to NIH's NC3 Centralized Data Resource
In a first for UC Health, patient data has been transferred as a whole from the UC systemwide COVID Research Data Set (CORDS) into the NIH's National COVID Cohort Collaborative's (N3C) centralized data resource. With both a centralized IRB and dataset, UC is efficiently and securely providing data to researchers on California's COVID patients, disproportionately people of color, to be represented in the NIH's national data enclave.
Notice | Holiday Impact on IRB Studies Expiring in December and January
If your study requires review by a convened IRB committee (i.e., "Full Committee") and is set to expire in December or January, please submit your continuing review at least six weeks prior to study expiration. Review FAQs for more information.
New Feature | Calling All Physician-Scientists
UCSF Profiles now features a "physician-scientist" checkbox item to help track and build engagement with the physician-scientist community across UCSF. If you self-identify as a physician-scientist, log into your Profile and update your record!
Reminder | Don't Wedge Safety Out!
UCSF Fire Prevention is tracking annually where fire doors have been found to be wedged or propped open and will be requiring departments to pay for installation of electric hold-open devices after a "third strike." To keep everyone in your work area safe, ditch the door wedges and ensure the fire doors in your work area are not being wedged or propped open.
---
Useful Links
---
About ReSearch ReSource
---