May 2020
Dear Colleagues,
Thank you for your continued agility and conscientious teamwork as we navigate resuming research operations in these challenging times. Last week, I sent two messages about our plan to gradually increase UCSF research activity at UCSF starting today, May 18, according to detailed directives specific to lab researchers, clinical researchers, and researchers who work with animals. Further information on the required daily employee health screening, other important protocols, and parking and transportation is now available online. This guidance is the result of planning discussion with campus leaders and stakeholders to protect the safety and well-being of our faculty, staff, learners, and patients. I appreciate your patience, partnership, and commitment in this work.
Please make sure that your research team is fully prepared before increasing research activities onsite. Today simply marks the beginning of this next phase of increasing our onsite research activities. Some of you will be ready before others and those different timelines are perfectly acceptable.
In collaboration with the Academic Senate, our next Research Operations Town Hall on May 20, from 4-5 p.m. (Zoom (Pin: 473859), will be dedicated entirely to answering questions about the restart of research operations. Please submit questions in advance so we may organize and assign them to our panelists. The hour-long session will address questions regarding current campus expectations, policies, services, and issues related to resuming research while co-existing with COVID-19. I will provide an introduction and be joined by the following participants:
Moderators: Lea Grinberg, MD, PhD, chair of the Academic Senate Committee on Research, and Winona Ward, CRA, assistant vice chancellor of Research
Panelists:

Mark Freiberg, executive director, Environment, Health, and Safety
Clare Shinnerl, senior associate vice chancellor, Campus Life Services
Shelley Patton, director, Labor and Employee Relations
Maye Chrisman, MBA, vice dean of Administration and Finance, School of Medicine

Additional Participants for Q&A:

David Morgan, PhD, vice dean for Research, School of Medicine
Harold Collard, MD, associate vice chancellor of Clinical Research
These town halls, along with our COVID-19 Research Town Halls, are forums for important updates and community interaction and putting a spotlight on the rapid research occurring across campus. Please watch these town halls and use them as a resource to share information with your colleagues.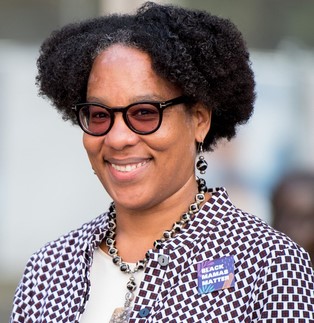 Speakers featured over the last month in our COVID-19 Research Town Halls:
April 22: Charles Chiu, MD, PhD, Gregory Marcus, MD, Kevin Grumbach, MD, Vanessa Jacoby, MD, MAS, Carolyn Hendrickson, MD, MPH, Kirsten Kangelaris, MD, MAS, Melanie Ott, MD, PhD, Shoshana Zha, MD, PhD, Angela Gallegos-Castillo, PhD
May 5: Discovery Science at QBI - Nevan Krogan, PhD, Brian Shoichet, PhD, Davide Ruggero, PhD, Kliment Verba, PhD, Shaeri Mukherjee, PhD, Kevan Shokat, PhD
May 13: Gabriel Chamie, MD, Carina Marquez, MD, Jeffrey Whitman, MD, Monica McLemore, RN, PhD, FAAN
The Office of Sponsored Research has provided a summary of COVID-19-related proposals and awards as of May 15:
Total proposals: 148
Total requested: $121,445,806
Total awards: 28
Total awarded: $46,552,220
I am pleased to welcome two new colleagues to UCSF research leadership: Edward Kuczynski, MA, who has been selected as the new director of the Human Research Protection Program after a nationwide search, and Stuart Gansky, DrPH, who has been appointed associate dean for research in the School of Dentistry. In more good news, I congratulate Yifan Cheng, PhD, and John L.R. Rubenstein, MD, PhD, for their election to the National Academy of Sciences.
Thank you for reading and caring for each other through this important period of our shared work.
Regards,
Lindsey
---
Interview of the Month: Launching CoLabs at Parnassus Heights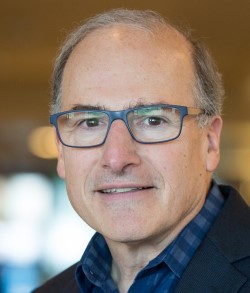 David Erle, MD, is the inaugural director of CoLabs, a next-generation hub based at the Parnassus campus and a pillar in UCSF's plan to transform the campus site. CoLabs will bring together several established and successful core laboratories into a new model for research collaboration. "It has been exciting to work with a dynamic team and see if we can make this bold move and experiment a success," says Erle. Read his interview and learn more about his leadership and CoLabs, which is on track to open in its first phase in summer 2020.
---
Let's Recruit 1M People! Join COVID-19 Citizen Science Study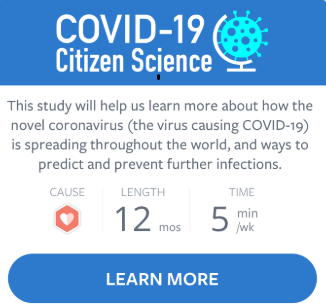 We invite every adult with a smartphone to combat the COVID-19 pandemic by contributing their data for science! Please join the COVID-19 Citizen Science Study, a fully remote, mobile-app based study developed and run by UCSF investigators. You can text COVID to 41411 or download the app on your smartphone. We encourage everyone to spread the word and hope to enroll at least a million people from all over the world. Learn more about the study in the April 22 Research Town Hall with Gregory Marcus, MD.
---
NIAID Awards $10.3M for COVID-19 Immunopathogenesis Study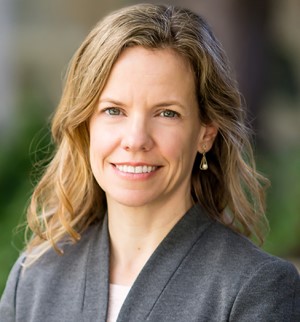 NIH's National Institute of Allergy and Infectious Diseases (NIAID) has awarded $10.3 million to UCSF to support studies of COVID-19 immunopathogenesis in inpatients at ZSFG and UCSF Medical Center. Eligible participants from the UCSF COMET study will be included in the NIAID-supported multicenter Immunophenotyping Assessment in a COVID-19 Cohort (IMPACC) study. Learn more about this study, the study team, and opportunities for collaboration at the COMET website.
The UCSF IMPACC PI is David Erle, MD.
The COMET clinical study is led by Carolyn Calfee, MD, MAS and site leaders Carolyn Hendrickson, MD, MPH (ZSFG) and Kirsten Kangelaris, MD (UC Health).
The IMPACC immunoassay group is led by Max Krummel, PhD, and Prescott Woodruff, MD, MPH, together with core leaders Walter Eckalbar, PhD, Chaz Langelier, MD, PhD, and Michael Wilson, MD.
---
CTSI Ramps Up Support of COVID-19 Research
CTSI is here to support, coordinate, and respond to COVID-19 research needs and help you make an impact in a variety of ways. Take advantage of up to ten hours of *free* research consultation services, recruitment resources (helping ongoing studies convert to remote recruitment, new website templates), access to UCSF EHR COVID-19 data, a hackathon, community partnerships, and more! Learn more.
---
Learn the Basics of Interrupted Time Series Designs
Many research projects are being suggested for analyzing the effects of the COVID-19 pandemic, essentially treating it as a "natural experiment" and a quasi-experimental design. The UCSF Implementation Science Program and Department of Epidemiology and Biostatistics have prepared a primer on the basics of interrupted time series designs, which are often the design and analysis strategy of choice in such situations and may be helpful in preparing grant applications. 
---
Events
UCSF COVID-19 Hackathon
The UCSF LaunchPad and Catalyst Program are hosting a virtual three-week hackathon aimed at designing new innovative and technical solutions to the health, medical, and scientific challenges we face due to the COVID-19 pandemic. Participate May 20 - June 10. 
How To Talk About Coronavirus
On May 28 join the discussion about science communication, journalism, research, and collective sensemaking during a global pandemic. Liz Neeley, executive director of The Story Collider, and Ed Yong, an award-winning science journalist who reports for The Atlantic, will begin with a wide-ranging 45-minute conversation and then open the floor for questions as we all grapple with our respective contributions to solving a problem too big for any one person to fully comprehend.
Help Document COVID-19
The UCSF Archives collect and maintain yearbooks, photos, research data, and more to help us directly understand past generations' experiences. Now it's our turn. Submit your photos, writing, videos, posters, flyers, and anything else that might capture this unique period in history through your eyes. 
---
Funding Opportunities
2020 Microbiome Research Program
The Benioff Center for Microbiome Medicine is calling for proposals for its 2020 Microbiome Research Program (deadline: June 5). Proposals will be funded by two independent mechanisms:
Trainee Pilot Award
1-page project description plus supporting documentation
Award level: Up to $10,000 for one year
Faculty Pilot Award
2-page project description plus supporting documentation
Award level: Up to $150,000 total over two years
UCSF Cross-Bay Collaborative Research Funding Opportunity
Research collaboration applications are now available for basic and translational laboratory scientists at UCSF and BCHO who are committed to establishing collaborations with existing UCSF faculty in Oakland in the 5700 MLK Way building. Applications for awards up to $50,000 must be submitted electronically as a single PDF to Mark Walters. Applications due by July 1. Funding commences on September 1. 
---
Infrastructure and Operations
Computational Projects Page
Do you need help with a computational project? UCSF researchers can submit projects for which technical talent is needed. Projects are posted to help find interested individuals with the appropriate technical expertise to fulfill needs. You can also submit COVID-19 related projects. 
UC-Wide COVID-19 Research Data Set
UC Health and UC BRAID have spearheaded the creation of a COVID-19 Research Data Set (CORDS), which will be available soon. CORDS combines COVID-19 EHR data from the 5 medical campuses into a centralized, secure research data set. Investigators can query the data set locally without IRB approval. 
Transition of IRB Review for Research Conducted at UCSF Benioff Children's Hospital Oakland
New Oakland IRB Committee will review ongoing and new research that is being conducted primarily at the UCSF Benioff Children's Hospital Oakland campus. 
IRB Response to COVID-19
An IRB Rapid Response Team has been created to prioritize review of COVID-19 research, plus updated IRB COVID-19 FAQs.
Other Support and Foreign Influence
Are you NIH, NSF or DOD funded? Do you have an unpaid appointment at another university or institute? Do you receive resources (lab space, equipment, materials, or personnel) from a domestic or foreign entity? Discover how to report these and other required elements of Other Support documents. 
New NIH "FORMS-F" for Grant Applications
NOT-OD-20-026 announces NIH's plan to implement FORMS-F for grant applications due on or after May 25. The notice provides a high-level summary of form changes and transition plans from FORMS-E to FORMS-F.
NSF Proposal and Award Policies and Procedures Guide 
Are you planning to apply for or receive an award from NSF this year? Effective for proposals submitted or due, as well as awards made, on or after June 1, the NSF has posted a webinar covering significant changes to their guide and resources to support NSF-approved formats for the biographical sketch and current and pending support.
---
Training and Tools
Training in Clinical Research
The Training in Clinical Research Program is now accepting applications for the following courses:
Applications are available on the course websites and due May 31.
---
Useful Links