Congratulations to David Julius, 2021 Recipient of the Nobel Prize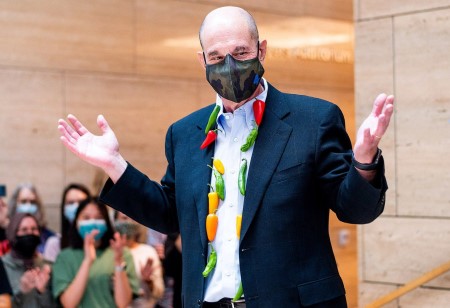 The Office of Research is thrilled to congratulate David Julius, PhD, professor and chair of the Department of Physiology and Morris Herzstein Chair in Molecular Biology and Medicine, for receiving the 2021 Nobel Prize in Physiology or Medicine with Ardem Patapoutian, PhD, professor of Neuroscience at Scripps Research and a Howard Hughes Medical Institute investigator. The two were awarded the prize for "their discoveries of receptors for temperature and touch." As Julius' colleague for over three decades, Chancellor Sam Hawgood celebrated his honor, remarking, "He is passionate about the work he does, following his curiosity to understand the basic fundamental question of how do we feel pain and how do we react through sensation to the world around us."
---
Three NIH Researchers Win NIH Innovator Awards
The National Institutes of Health has awarded grants to Daniele Canzio, PhD, Vijay Ramani, PhD, and Daniel Wagner, PhD through the High-Risk, High-Reward Research Program supported by the NIH Common Fund. The three researchers received the NIH Director's New Innovator Award, which is designated for "early stage investigators of exceptional creativity who propose highly innovative research projects with the potential to produce a major impact on broad, important areas relevant to the mission of NIH."
---
Share Your Thoughts: UCSF Climate Survey, Library Journal & Database Cancellations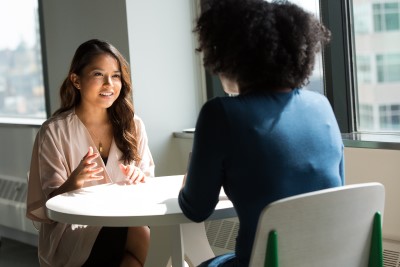 The UCSF Climate Survey is designed for all academic and staff employees and learners to make their voices heard. Please check your inboxes for an October 11 email with a unique link to the survey from Emma White Research.
Your participation and opinions lead to change, helping UCSF move forward to who we aspire to be – one of the best places to work and study, where we demonstrably live our UCSF PRIDE Values, and where the health and well-being of the UCSF community matters. Learn more on the UCSF Climate website.
Every fall, the UCSF Library reviews its subscriptions as part of the renewal process for the upcoming year. For 2022, instead of a flat budget, the Library is facing the extra challenge of a budget cut and must reduce its resource spending by $140,000 or about 8%. Please review the proposed 2022 journal and database cancellations. You must log in to UCSF Box with MyAccess to view the list of titles. Send your comments and questions by October 22.
---
New Guidance: Sharing De-Identified Data for Publication
Have you been asked by a journal to share the data underlying your research paper? Are you confused about the best way to meet data sharing requirements while following UCSF privacy and data policies? New UCSF Guidance on Sharing De-identified Data for Publication is designed to walk researchers step-by-step through the data sharing process, including getting consent, de-identifying data, and selecting an appropriate repository. Check it out now to plan ahead for data sharing and to access relevant UCSF resources.
---
Profiles Hotlist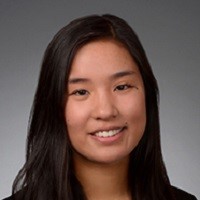 Monica Yang, MD
Clinical Fellow, Rheumatology
and Alexander Carvidi, Emanuel Demissie, Diana Paez, Niti Pawar, Jonathan Graf, MD, Kimberly Taylor, Patricia Katz, PhD, Mehrdad Matloubian, MD, PhD, Lianne Gensler, MD, and Mary Nakamura, MD
"Effect of Immunosuppression on the Immunogenicity of mRNA Vaccines to SARS-CoV-2," Annals of Internal Medicine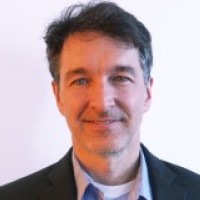 Jason Crane, PhD
Director, Computational Core, Radiology
and Christopher Hess, MD, PhD, Jae Ho Sohn, MD, MS, Sharmila Majumdar, PhD
"Federated learning for predicting clinical outcomes in patients with COVID-19," Nature Medicine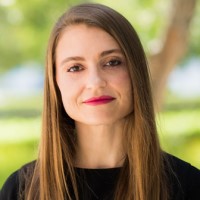 Lucy Kornblith, MD
Assistant Professor of Surgery
and Alexander Fields
"Platelets amplify endotheliopathy in COVID-19," Science Advances
---
Events
IgEquity at the Immunologists for Gender Equity Symposium
October 22, 10 a.m. – 7:30 p.m.
Join UCSF's IgEquity at the Immunologists for Gender Equity 4th Annual Symposium in Cole Hall for a day full of talks ending with a networking reception!
---
Funding Updates
The Office of Sponsored Research reports the following summary of COVID-19 related proposals and awards as of October 17:
Total proposals: 770
Total requested: $1,068,041,580
Total awards: 316
Total awarded: $232,809,712
Seeking K Grant Writing Workshop Co-Director
The CTST K-grant writing workshop for fellows and junior faculty is calling for candidates at the associate professor level or higher with excellent writing skills, who have had their own external K award, an R01 award, and/or experience as an NIH study section reviewer. Deadline: October 29, with applications due to Madeline Mann.
2022 Clinical Scientist Development Awards
The Doris Duke Clinical Scientist Development Award provides grants to junior physician-scientists to facilitate their transition to independent clinical research careers. Pre-proposals deadline: November 12 with up to $495,000 over 3 years available per each award.
Learning Health System Early Career Acceleration Program (LEAP) K12
The LEAP K12 career development award for faculty who conduct patient-centered outcomes research within learning health systems is recruiting four scholars to begin July 1, 2022 for 2 years. Part of the broader K-scholar program at UCSF, scholars receive annual salary support up to $90,000. Deadline: November 15
NIH Funding Opportunities Specific to COVID-19
Visit this website for the latest funding opportunities.
---
Operations, Training, and Tools
Apply | 2021-2022 Academic Year Catalyst Internship
Be part of an innovative project team to learn about early translational research and the process of translating academic discoveries into products for patient benefit. Students, postdocs, medical residents, and clinical fellows are encouraged to apply! Deadline: November 1.
Register | Clinical Research Operations Training Courses
Build your clinical research skills at CRC Bootcamp (Orientation, Informed Consent, IRB & Safety Reporting) on November 4 and 5. Also offered in November: Pre and Post Award Tasks, Audit Readiness, Protocol Training, MOPs & SOPs, and Effective Communication. All UCSF study team members welcome. 
Register | Waste Anesthetic Gas Training in UC Learning Center
EH&S is proud to announce the Waste Anesthetic Gas course, now live in the UC Learning Center. The course covers the safe use of anesthetic gases in animal research, is a requirement for all researchers using anesthetic gas, and must be completed prior to beginning animal work involving isoflurane or other inhalation anesthetics.
Update | Hydrogenation Reactions Safety
In response to a recent fire involving a hydrogenation reaction, EH&S has released a new safety update detailing the accident and lessons learned. This document should be reviewed by all research groups who work with these types of highly hazardous reactions.
Update | Chemical Inventory User Guides
Read the updated user guides for the UC Chemicals chemical inventory software, including a new guide specifically for laboratory moves. These can be found in the Additional Resources section. Questions? Please contact [email protected].
---
Useful Links
About ReSearch ReSource