Posted: July 15, 2021
By Shelley Wong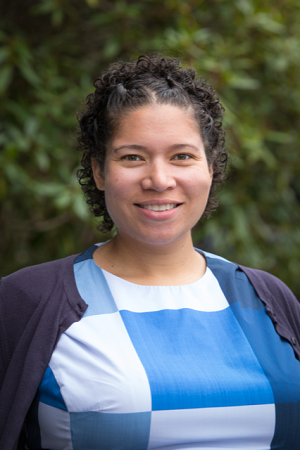 Jennifer James, PhD, MSW, MSSP, is a 2021-2024 recipient of a Greenwall Foundation Faculty Scholar Award, which funds three junior faculty over three years to carry out innovative bioethics research. James is an assistant professor in the Institute for Health and Aging, the Department of Social and Behavioral Sciences, and the Bioethics program at UCSF. She is a qualitative researcher and Black Feminist scholar whose research lies at the intersection of race, gender, and health, with a specific focus on experiences of cancer and chronic illness.
Congratulations on the Greenwall Foundation Faculty Scholar Award! Could you tell us about the program?
My program began July 1; it is really cool and goes well beyond the people who are currently scholars. Folks who have been funded in the past come back as we meet twice a year. This year it was over Zoom, but they're hoping to resume in person. We meet to talk about current work and other issues in bioethics, with an emphasis on policy and public scholarship, so there's mentorship and community. Their goal is to help elevate junior scholars in bioethics to be able to advance bioethics research and conduct cutting-edge research on emerging bioethics topics.
What is the project you'll be working on over the next three years?
Over the last couple years, I've been doing more and more research on incarceration and health, working with community partners and community organizations who do work with currently and formerly incarcerated women. Something that came up through that work was this topic of forced sterilizations. Between 2006 and 2010 – so really recently – hundreds of women were sterilized without proper informed consent in California's women's prisons.
This came to light in 2013, and in 2014, heightened regulations were passed reaffirming and putting in new regulations to ensure that people are not sterilized without their consent, even though it was already not supposed to be happening. In exciting news announced today [July 14], the governor signed the budget, which included reparations or compensation to people who were sterilized as a part of the California eugenics program, including people who were sterilized by California prisons. This is important because people will get financial compensation for this, but also notification. Many people who were sterilized when they were incarcerated were never told that this happened to them.
My research is focused on understanding individual experiences, patient-provider interactions, the California regulatory framework, and how all of this operates under the shadow of the historical legacies of eugenics in our state. I'm interested in understanding what it was like to be sterilized in that setting through interviewing people who underwent those procedures and learning about their experience, but I'm also really interested in in understanding how people make health care decisions in prisons now with the heightened regulations. What is their ability to make reproductive health care decisions when they're incarcerated? If somebody wants a sterilization (which many women do), is that something that's possible? Or if they need potentially sterilizing procedures (e.g., a hysterectomy for other reasons), what is it like to be able to access those types of services? I'll be doing interviews with patients and providers about how they work together to do shared decision-making, as well as interviews with key stakeholders to understand the legal and historical processes that led to this moment and what we can understand about decision-making in carceral spaces more broadly.
Are there specific sites or collaborators that you wanted to mention related to this work?
I work closely with the California Coalition for Women Prisoners. I have some additional funding that I've received from the RAP program (funded by CTSI and part of a new program in anti-racism research) and the School of Nursing Gaine Research Fund that will help fund my collaboration with them. We're going to be doing stakeholder convenings of people across the state who have a vested interest in this. We'll be understanding the best ways to support those who are incarcerated and developing a sort of "know your rights" pamphlet or guide so that people who are inside have an understanding of what they're legally entitled to as they're making these decisions.
Most research isn't conducted with the needs and priorities of the people who are incarcerated being centered. I'm trying to learn about the best practices for doing that engagement.
Jennifer James, PhD, MSW, MSSP
Assistant Professor, Institute for Health & Aging, Department of Social and Behavioral Sciences, and the Bioethics program at UCSF
You're also a Population Health and Equity scholar; how does that work relate to this project?
The other big project that I'm working on now is figuring out the best ways to do work with people who are incarcerated; so not on or about, but in partnership with those who are incarcerated. For many, many justified reasons, we've made it very hard to do research with people who are incarcerated, in order to protect them from research abuses that happened for many, many years. But all of that has made researchers and people who are incarcerated quite distanced. Most research isn't conducted with the needs and priorities of the people who are incarcerated being centered. I'm trying to learn about the best practices for doing that engagement so that in future projects I can do real community-engaged research with incarcerated women.
You've been very active over the past decade across many different universities and honored for your work. Could you speak to the trajectory of your career, which has brought you to this focus in your research in working with women who are incarcerated?
While I was earning a master's of social work and a master's in social policy, I worked in a cancer center, a nursing home, and an ICU. I saw on the ground our failings of health policy. You only need to meet a couple people who are living in a state-funded nursing home because their diabetes wasn't well-managed and they had to have an amputation and don't have access to accessible, affordable housing, in order to realize the critical need for community-grounded health policy. I also met many people who were dying of diseases and hadn't had full conversations with their providers about their prognosis.
I wanted to better understand the connection between policy and practice and research seemed like the way to start answering some of my questions. I read a beautiful ethnography by Sharon Kaufman [UCSF professor emerita of medical anthropology] and discovered both qualitative health research and UCSF. I knew the UCSF Medical Sociology program was the place to learn the skills and theory I needed to do this type of research. My dissertation was on the experiences of Black women with advanced cancer. I spent a lot of time at the General and met people who they themselves or their family members or close friends were involved in the criminal legal system in different ways. It sparked an interest in me and understanding of what it's like to face chronic or potentially life-limiting illness while you're incarcerated. Most of my research in many different areas has focused on things like patient-provider relationships, shared decision-making, understanding of disease, understanding of prognosis, all of which to me seem like they would operate differently in a carceral setting, where things like autonomy are not necessarily guaranteed. I continued – and am still continuing – to do research related to cancer, but this little idea about health and health care inside prisons stuck with me.
In 2019, I was fortunate to be funded by the UCSF Center for Aging in Diverse Community and the UCSF Pepper Center to do a pilot project for an initial set of interviews with formerly incarcerated Black women. I started doing ethnography with community organizations which has led to a partnership with those organizations. Since then it's spun into more and more projects, especially when COVID hit. I started several research projects to better understand the implications of COVID-19 for incarcerated populations.
What is your response to what you're learning and hearing in your pandemic research?
What's so hard is, basically, prisons and jails are the worst place to be during a pandemic. You can't social distance, people are sharing the same air. It took a very long time in some places to have access to things like masks. Even things like being able to wash your hands were not readily available. People who are incarcerated are much more likely to have comorbid health conditions, so this is a population that's very much at risk. We saw in California state prisons more than half the population ended up having COVID. This is despite many people being on lockdown – in their cells for 23 hours per day, no access to visits, education, or programming – for months at a time. We are going to be seeing the mental health costs of COVID and COVID risk-mitigation for years to come. Overall, people could not be kept safe inside prisons and jails during the pandemic. And what worries me and what I'm hearing from many epidemiologists and infectious disease experts is that the likelihood that there's another pandemic like this in our lifetime is high – this may not be a once-in-a-lifetime thing we're experiencing.
There's another paper I'm working on that's on compassionate release, but we are describing how COVID-19 has shed light on the many ways that prisons themselves, structurally, create risk for disease. Something that's a problem in Southern California, along with many parts of country, is when there's extreme heat, which we've been experiencing recently, most prisons don't have air conditioning – so it can be 100 degrees inside the prison – that puts people at risk for disease. How do we think about the many environmental, natural and not natural, things that happen in our world and what they mean for people who are incarcerated, and our moral, legal, and ethical obligations to keep people we incarcerate safe?
Thank you for speaking to me today. Is there anything else you wanted to add?
Thanks so much for this opportunity. I'm always happy to talk about my research and find opportunities to collaborate with others on campus. Not everyone knows we have social science on this campus! I'll also just mention I work closely with UCSF Bioethics and with the ARCH Network – great resources for folks interested in research, policy, and practice in bioethics and incarceration.