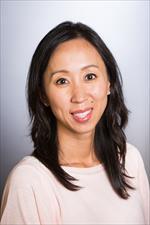 Posted: October 21, 2019
By Shelley Wong
Digital technologies offer the promise of helping patients manage their health, but developing safe and effective interventions is challenging as technology evolves. Linda Park, PhD, MS, FNP-BC, is studying the use of digital health solutions for cardiovascular disease patients.
"My work with patients in cardiology over the past 20 years has informed my passion to create practical solutions to manage their everyday struggles, such as medication management and physical activity," says Park. By developing and testing interventions using quantitative and qualitative research methods, she seeks to improve patient self-care and health outcomes. Patients often struggle to adapt to lifestyle changes after diagnosis and medication adherence is critical to limit additional cardiac events.
A UCSF alum, Park holds dual appointments as an assistant professor in the School of Nursing and a nurse researcher at San Francisco Veterans Affairs Medical Center (SFVAMC), and she continues to work as a nurse practitioner with patients who undergo cardiac and vascular procedures at John Muir Medical Center. She is a 2019-2020 Tideswell Emerging Leader in Aging and was a UCSF/National Institutes of Health KL2 Scholar from 2015 to 2018.
For Park, becoming a nurse was an early decision. Her family immigrated to the U.S. when Park was a toddler because her brother needed to have open heart surgery. She saw her parents struggle to adapt to their new life in Chicago and leave their familiar lives and engineering careers behind in Korea.
"Helping people is in my DNA. I learned at a young age that I wanted my parents' sacrifice to be worth it, so I committed to being a nurse at age eight," says Park. She followed that path, earning a master of science degree as a family nurse practitioner from the University of Illinois at Chicago.
Working in the outpatient clinical setting, Park decided to pursue her doctorate after seeing many cardiovascular patients return with a heart attack or other serious medical events because they had not been educated to take their medication. She began her work in digital health innovations by using customized text messages to study medication adherence in patients with coronary heart disease. As a result of that work, she received the American Heart Association Martha N. Hill New Investigator Award.
Park has since expanded her use of digital health to mobile applications and wearable devices. With funding from the VA Nursing Research Initiative Award, she is conducting a four-year study of antiplatelet medication adherence in veteran patients with coronary heart disease using text messaging, a mobile application, or an educational website. This large-scale clinical trial involves five national sites, including VA medical centers in Palo Alto; Gainesville, Florida; Dallas; and locally at UCSF and John Muir Medical Center.
In her research population, the mean age is 65, but Park has worked with a range of patients who are curious about using health technology to improve their health. As a Tideswell fellow, she sees the particular urgency of working with older adults in research, given the rapid increase of older adults in our population.
"One of the successes of my research has been to dispel the myth that older adults are not willing to use technology in their self-care. There has definitely been adoption of technology over the last ten years, but there is a lot more familiarity now when an intervention can come from their smartphone," she says.
Park recently completed her Mobile4Heart study, which found that patients who use a Fitbit and a mobile application were more likely to maintain their physical activity after completing cardiac rehabilitation, than those who used a pedometer and a paper diary. Cardiac rehab normally includes patients who have just had open heart surgery, a heart attack, or a coronary stent. "We often don't know what happens to patients after they complete cardiac rehab, so we need to continue to promote activity in these groups. Up to fifty percent don't engage in any physical activity after six months, which puts them at risk for secondary cardiac events," says Park.
To date, Park's research has relied on digital interventions that are commercially available. With seed funding from the School of Nursing Lipps Research Fund, she is developing an electronic reminder system with an interdisciplinary team of engineers, marketing consultants, and others. She is excited to extend her work into the innovator and entrepreneur arena.
"This is my passion project. It was born out of my research, where patients in our focus groups were extremely attached to their plastic pill organizer, and it occurred to me that a simple electronic reminder could be a solution to missed medications. It's really important for patients in the post-PCI [percutaneous coronary intervention] stage to take their medication on a regular basis, so this would relieve a lot of anxiety," says Park.
Her hope is that technology can be meaningfully used to improve and extend the lives of many patients. She says, "Cardiovascular disease continues to be the leading cause of death. We all know someone who has suffered from a heart condition. It's important not to forget this important group of people."
Additionally, Park is a champion of greater collaboration between UCSF and the VA. "The opportunities are really untapped. There is endless potential for research and training with our partners at VA. Veterans deserve the best that both institutions can offer."
Throughout her experience as a UCSF student and faculty member, Park has valued cross-campus and interdisciplinary exchanges. She says, "The power of teamwork at UCSF is amazing. Working with people across multiple disciplines who bring deep layers of thoughts, ideas, and experience makes UCSF very special."