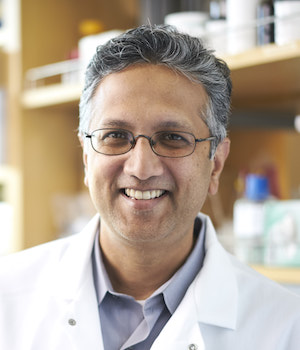 Posted: April 12, 2019
by Shelley Wong
Nearly 750,000 U.S. patients have end stage renal disease, according to U.S. government statistics, and this population grows by five percent every year and accounts for seven percent of Medicare's budget. With the complications and high cost of dialysis and long waiting periods for kidney transplants, alternatives are greatly needed to improve health outcomes.
Shuvo Roy, PhD is a professor of bioengineering and therapeutic sciences (lab website) and the technical director of The Kidney Project, a multi-institutional collaboration that is building a bioartificial kidney as a permanent solution.
"Patients with kidney failure relying on dialysis are hugely underserved. Dialysis has not seen much innovation in the last 50 years. It may save the patient's life in the short term, but it does not restore their health," says Roy, who compares the odds of getting a kidney transplant to winning the lottery.
On dialysis, patients have a mortality rate that is higher than most cancers. However, Roy points out how there is little research on kidney failure compared to cancer, heart disease, and Alzheimer's disease. He finds himself in a fortuitous position as the leader who is bringing together a complex network of collaborators to potentially transform and prolong thousands of patients' lives.
"I often think about UCSF's mission and think 'If not us, as a public institution, who?' UCSF is the right place to do it. And if not now, when?" he says. "Patients are waiting – each year less than one in five who are on the kidney waitlist actually get a transplant. How lucky I am, that as an engineer, I have a chance to make a significant impact on patients using my core technologies!" 
The artificial kidney is implantable, ambitiously designed to run using the body's own blood pressure, and will not require immunosuppression drugs or extra fluids or power. The patient will be able to eat and drink freely and experience a better quality of life. 
"What we have done at UCSF and with my colleagues across the country is to take a hybrid approach that is inspired by the native kidney design. We use silicon nanotechnology to build a high efficiency and highly biocompatible membrane filter that doesn't negatively react with the body, and combine it with a bioreactor containing living kidney cells," says Roy.
I often think about UCSF's mission and think 'If not us, as a public institution, who?' UCSF is the right place to do it. And if not now, when?
Shuvo Roy, PhD
Professor of Bioengineering and Therapeutic Sciences
The filtration unit processes blood and removes waste along with water and valuable salts. The filtrate is then directed to the bioreactor, which uses kidney cells to selectively keep molecules and ions that the body needs and pumps them back into the bloodstream. The residual amount of fluid along with excess salts and toxins in the filtrate becomes the urine that is directed to the bladder.
The U.S. Food and Drug Administration selected Roy and his team to participate in their Breakthrough Devices Program, which has allowed them to design a roadmap to achieve regulatory milestones through the clinical trial process up to product approval. With feedback from the FDA, Roy and his team plan to execute a series of clinical trials with iterative versions of the device to test and prove its safety and effectiveness. Roy is currently wrapping up his animal studies and will then submit an application for the first clinical trial to test the blood compatibility of the membrane filter in patients on dialysis.
UCSF excels at this multidisciplinary work, Roy says, because "collaboration comes naturally at UCSF. Our work requires expertise from people who are biomaterial scientists, people who understand kidney disease, people who are excellent at mechanical design, people who are experts in surgery, people who understand blood – there are so many skills around our UCSF ecosystem to draw from. And beyond UCSF, there's Berkeley, QB3, all the way down to the South Bay and Silicon Valley." 
The Kidney Project is a nationwide effort: Roy's primary clinical collaborator, William Fissell, MD, is at Vanderbilt University Medical Center, and other sites include the University of Michigan, the Cleveland Clinic, and the Pennsylvania State University, along with a number of small companies. 
Roy spent the entirety of his college education in Ohio, earning a BS degree, magna cum laude, with a triple major in physics, mathematics, and computer science, from Mount Union College and an MS in electrical engineering and applied physics and a PhD in electrical engineering and computer science from Case Western Reserve University. He co-directed the BioMEMS Laboratory in the Department of Biomedical Engineering at the Cleveland Clinic, focusing on clinical applications of MEMS (microelectromechanical systems), until he joined the newly formed Department of Bioengineering and Therapeutic Sciences at UCSF in 2008.  
Attending a small liberal arts college as an undergraduate exposed Roy to a range of disciplines. "You are continuously challenged to think outside the box and to take into account how you communicate and take in multiple viewpoints. It gave me a grounding to be approachable and the confidence to approach others," he says.
"When I came to UCSF, I was pleasantly surprised that I could still continue with clinical interactions with the depth and breadth of UCSF's clinical expertise, but could also engage with engineering students and faculty at Berkeley – and take advantage of all of the resources and basic science at UCSF ranging from stem cells to bioinformatics and all of the analysis techniques we have here to advance The Kidney Project. It has become a great home."